About Us ...
Johny Garments is a well established company specializing in the manufacturing and exporting of high fashion garments. From the inception, we have been producing a wide range of clothings for mens, ladies and children.
Our office is situated in Tirupur - The Hosiery town of India, run by a team of well experienced merchandisers, designers and management staff, supported by three subsidiary factories.
With modern equipments, advanced technology, qualified technicians, skilled workers, blended with comprehensive quality management system, our production line has the capacity of making about 100,000 basic T-Shirts per month.
Our products are being exported to many countries, mainly to European Countries, Canada and U.S.A, ... and it has won the NAME from the customers in both local and overseas markets.
We constantly maintain quality and delivery schedules. We follow the adage - integrity is to keep the commitments at any loss and the wisdom is not to make such commitments. We like to keep things fashionable, playful, sturdy and yet affordable.
Philosophy ...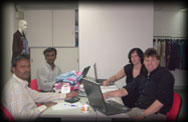 Johny is a service provider of trade with the ability to react flexible to the demands of the market and its customers.
Development and production of up-to-date collections as well as their constant high quality are Johny's most important aim and with the help of necessary investments. Johny will do everything possible to fulfill this commitment also in future.
Social Responsibility ...
Johny Garments strongly believes in

"Give And Ye Shall Be Given"
Every individual, be it a man or a woman or an organization - owes some duties and responsbilitites towards the fellow beings and society at large. It is in giving that the greatest pleasure lies in.
We, as an organization, are committed to helping orphans in orphanages, conducting free medical camps, providing educational support, etc.
We support orphanages in our state which are run by nuns and some agencies and individuals. Regular contributions are made in cash and kind to some of the ashrams meant for the welfare of old people and young orphans. Anbu Illam and Don Bosco Ashram are a few to mention.
When Tsunami showed its violent face in the coastal areas of Tamil Nadu during 26th Jan 2004, we immediately jumbed into action helping the homeless people in cash and kind and food.
We visualize many more social responsibilities in the days to come!!!